Introducing Jack Zampolin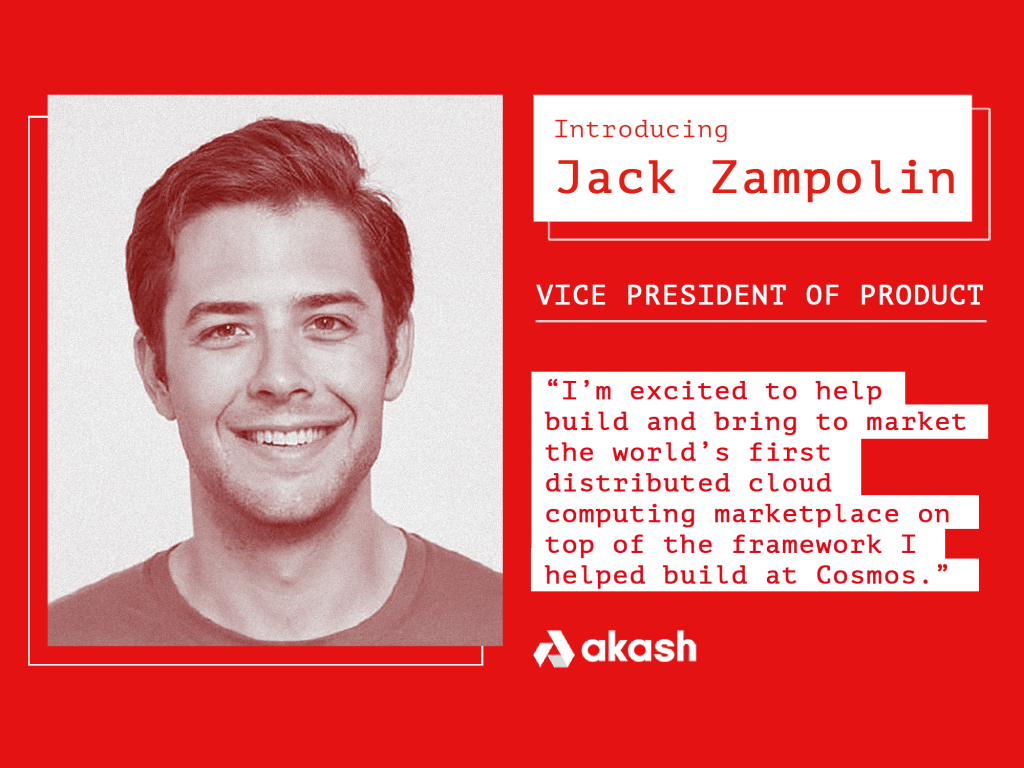 Jack Zampolin was the first user of Akash and the first outside contributor to the code base,
quickly becoming a trusted advisor and investor. His unparalleled background in cloud development, blockchain, and Cosmos SDK will help us accelerate our roadmap to market. At Akash, empathy being our core value, we cannot wish for a better product manager that is first and foremost a user of the Network.

- Greg Osuri, CEO Akash Network

Since I started working full time in blockchain, I've consistently tried to bring in the best practices I learned from working in the cloud world. Just like blockchains, cloud systems are distributed systems and have many of the same characteristics as blockchains.

When I first saw the Akash Network demo that Greg Osuri gave me, I was blown away. It encapsulated a lot of the thinking I'd been doing about how to build a decentralized cloud, and what go-to-market strategy would work. I was instantly sold and couldn't wait to contribute and to invest. 

Akash's founders, Greg and Adam, envision a world where cloud computing is permissionless, sovereign, and open, enabling developers and architects greater freedom to innovate. They also want to enable people to become participants, and not just users, of the cloud. 

Their vision resonated with me.

With more of our work and play moving to the cloud, Akash's platform leverages the best of cloud infrastructure technology and blockchain to transform the $240 million cloud computing industry. 

Today, I'm excited to announce that I'll be joining Akash Network as the first VP of Product. In this role, I'll be driving the product roadmap and partner engineering efforts, advocating for Akash's user communities, and serving as Akash's first developer evangelist. It's a perfect fit with my background and interests in cloud infrastructure, blockchain, and Cosmos SDK, as well as my role as a validator at Pylon.

Earlier in my career, I worked as a developer and evangelist shipping developer tools at InfluxDB. Later at Blockstack, I built the developer community and helped raise $80 million from ICO and Reg A+ voucher sales. Most recently at Cosmos/Tendermint, and with Game of Stakes, I focused on helping build developer tools, expanding the ecosystem, and growing the validator community. These experiences shaped my user-first development philosophy, and my commitment to community building. 

After two years at Cosmos, and with Game of Zones drawing to a close, I'm excited to help build and bring to market the world's first distributed cloud computing marketplace on top of the framework I helped develop at Cosmos.

I'm joining at a pivotal time for the company. We just completed Phase 1 of The Akashian Challenge, our Incentivized Testnet, which attracted 211 teams and 99 active validators, making it the second largest Testnet in the Cosmos Hub (after Game of Stakes) and the second largest Testnet globally after Ethereum 2.0.

We also sold out of the first production run of our Supermini portable supercomputers.

What's next for Akash? We'll be launching Phase 2 of the Testnet to stress test the decentralized exchange aspects of our platform, and Phase 3 shortly after, to test the full platform in preparation for the Mainnet launch of our decentralized cloud functionality. In July, we'll be launching our Mainnet to stabilize the validator set and establish staking for Akash Token (AKT). We'll have full Mainnet functionality in Q4 of this year.

I look forward to working with Greg, Adam, and the Akash team to ship the world's first decentralized marketplace for cloud compute. 
Proof of Stake Pioneer, Cosmos' Jack Zampolin
Joins Akash Network as VP of Product