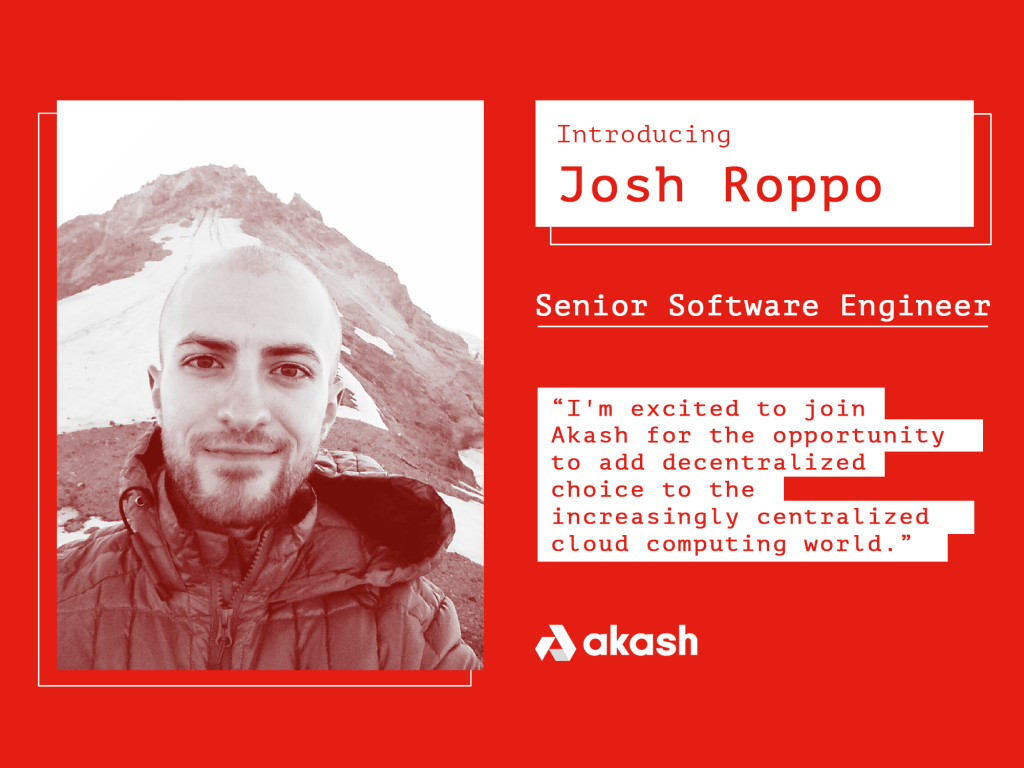 "In the long arc of innovation, thriving technology always enables choice, connections, and new problems worth solving. I'm excited to join Akash for the opportunity to add decentralized choice to the increasingly centralized cloud computing world."
To build the future of the cloud, Akash requires incredibly talented and experienced builders. After a thoughtful and careful search, we're excited to announce that Josh Roppo has joined our team as Senior Software Engineer.

Hailing from Portland, Oregon, Josh previously served in lead infrastructure and senior operations roles at ShiftLeft, a code analysis security company for software, and Lytics, a real-time customer data platform.

Creative and curious, he'll be leveraging his experience in infrastructure, distributed systems, security, and containerization to help us build the foundation for the world's first decentralized cloud computing marketplace.

"Curiosity is a key attribute of a developer–you have to explore to figure out how things work, and to make them work," says Josh.

Initially, Josh will be working on integrating Akash toolchain with the Kubernetes API, to enable consistent compute resource allocation across decentralized cloud providers. He'll also be applying his operations experience to provide secure execution for both tenants and providers on Akash Supercloud.

Josh is passionate about creating and building scalable applications, with a deep focus on security.

"Security tends to be deprioritized in application development, and requires utmost attention to detail. I have a bit of a protective personality, so security has always been a key aspect of my work."

Outside of building the future of the cloud, Josh dedicates his time to trail stewardship, mountain biking, backcountry skiing, and going to faraway places.